The Block is Blockbuster's new streaming service that partners with other services and provides access to a vast variety of content all in one place.
Duration

8 weeks
Team
Siegel + Gale
Intern Team
Tools

Figma
Photoshop
Problem

Blockbuster was a brand popular between the 1990s and early 2000s. Our brief was to re-define Blockbuster, making it the future of all aggregated streaming for individuals to watch what they love in one place.

Solution


Our approach is to revive a legacy to not only engage users, but to give them a better experience at a better price. The Block brings the joy and humanity that Blockbuster gave to customers, while also providing a fresh new take on streaming services. Working with research, strategy, communication, and marketing teams, I created experience touchpoints to showcase what a platform for Blockbuster could look and feel like.


Users can select a bundle option that is right for them.


When signing up to use our platform, users can easily see which of our bundles is best suited for them in a clear way. We wanted our digital experience to be simple and easy to use and by providing that from the very beginning, we create a feeling of trust in our brand and platform.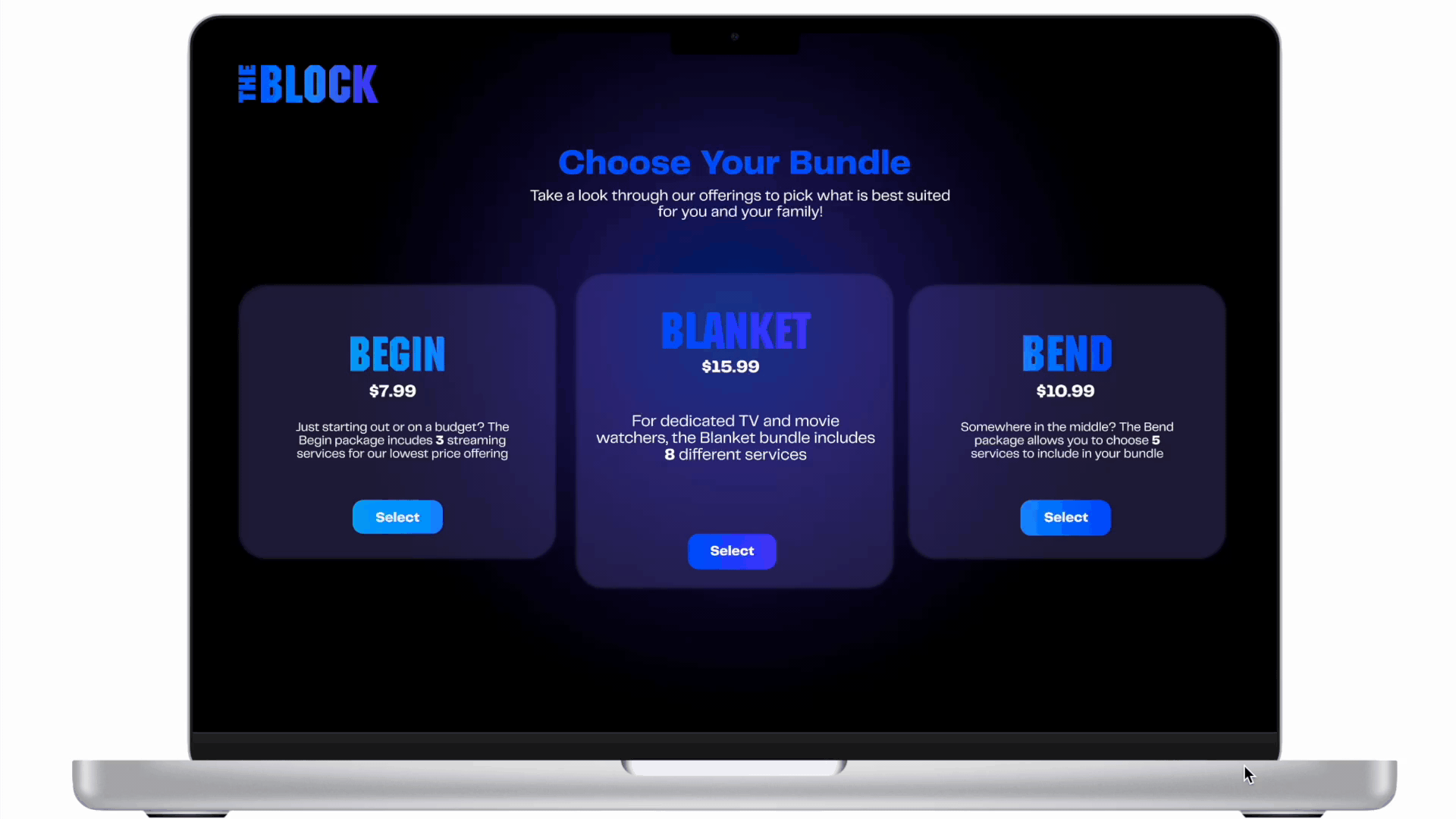 Easily find content by filtering.


After users have added services to their bundles, they have access to a lot of great content, but that also means that having so much content can be overwhelming. Simplifying the watch experience reduces content overload and creates an easy content discovery experience.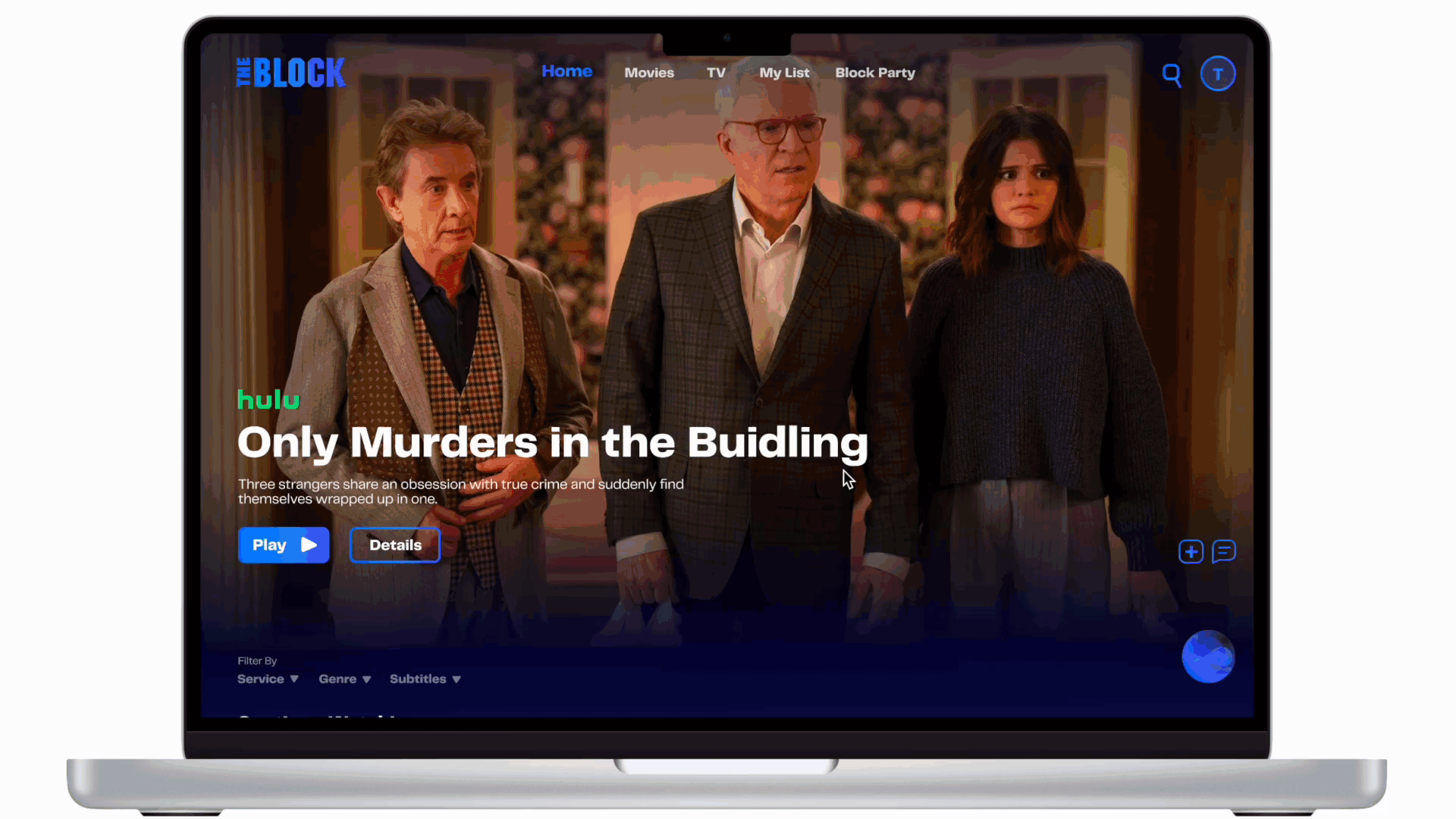 Users are provided with the most personalized content recommendations from Buster.


When blockbuster had in-person stores, visitors could talk to an experienced representative and they could rely on them to provide them with recommendations of what to watch. We wanted to emulate that experience digitally and build upon our brand legacy by having Buster.
See reviews from friends to aid in decision-making.


Users of streaming services really prioritized the opinions of their friends and family in the search for content. Having a space in which these opinions could be voiced helps users to decide what to watch.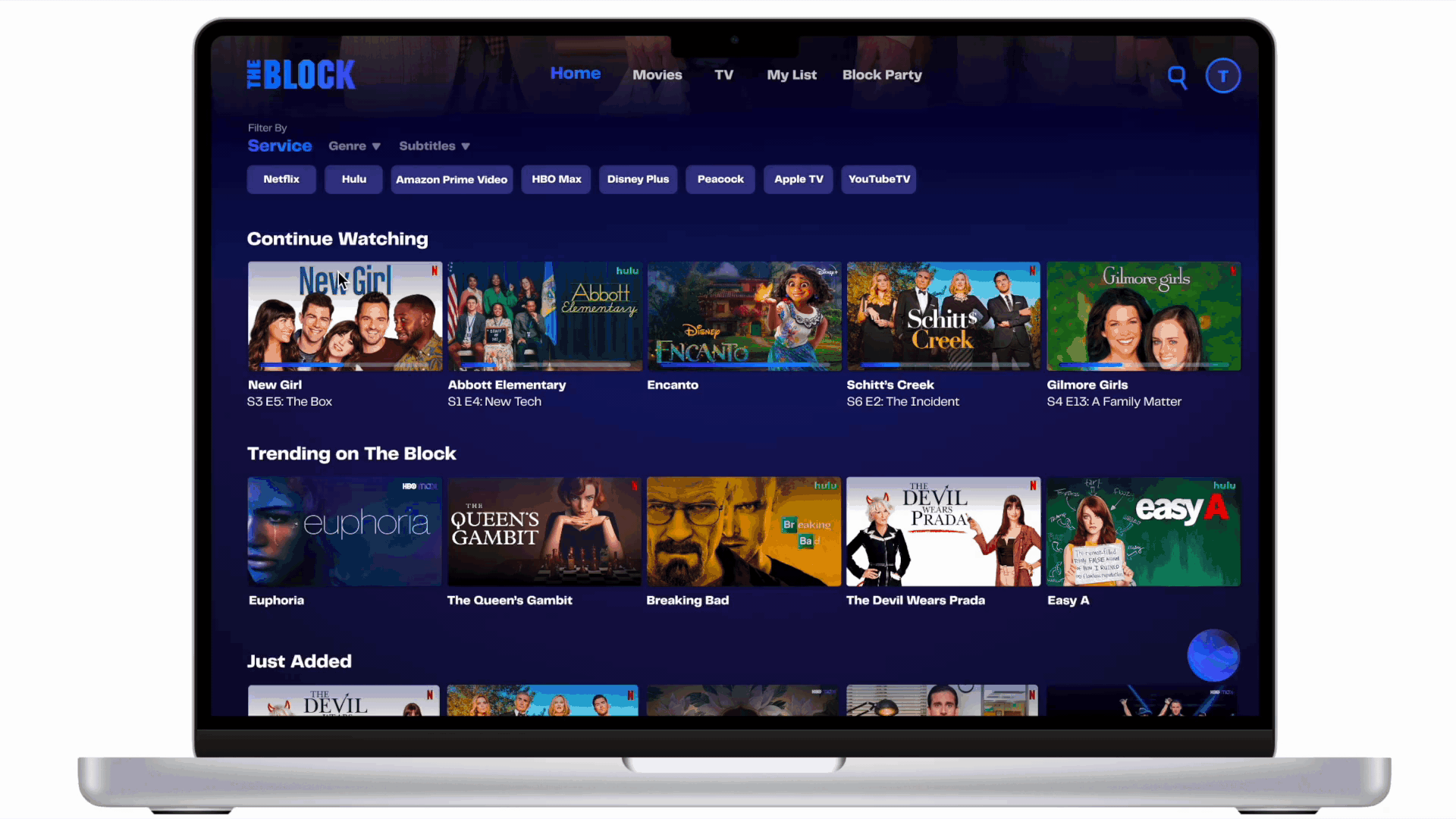 Movie and TV lovers can share and discuss their favorite content on Block Party.


Because our research showed that users valued having a community of friends when watching content, we created Block Party to provide human connections digitally and create a community for open discussion.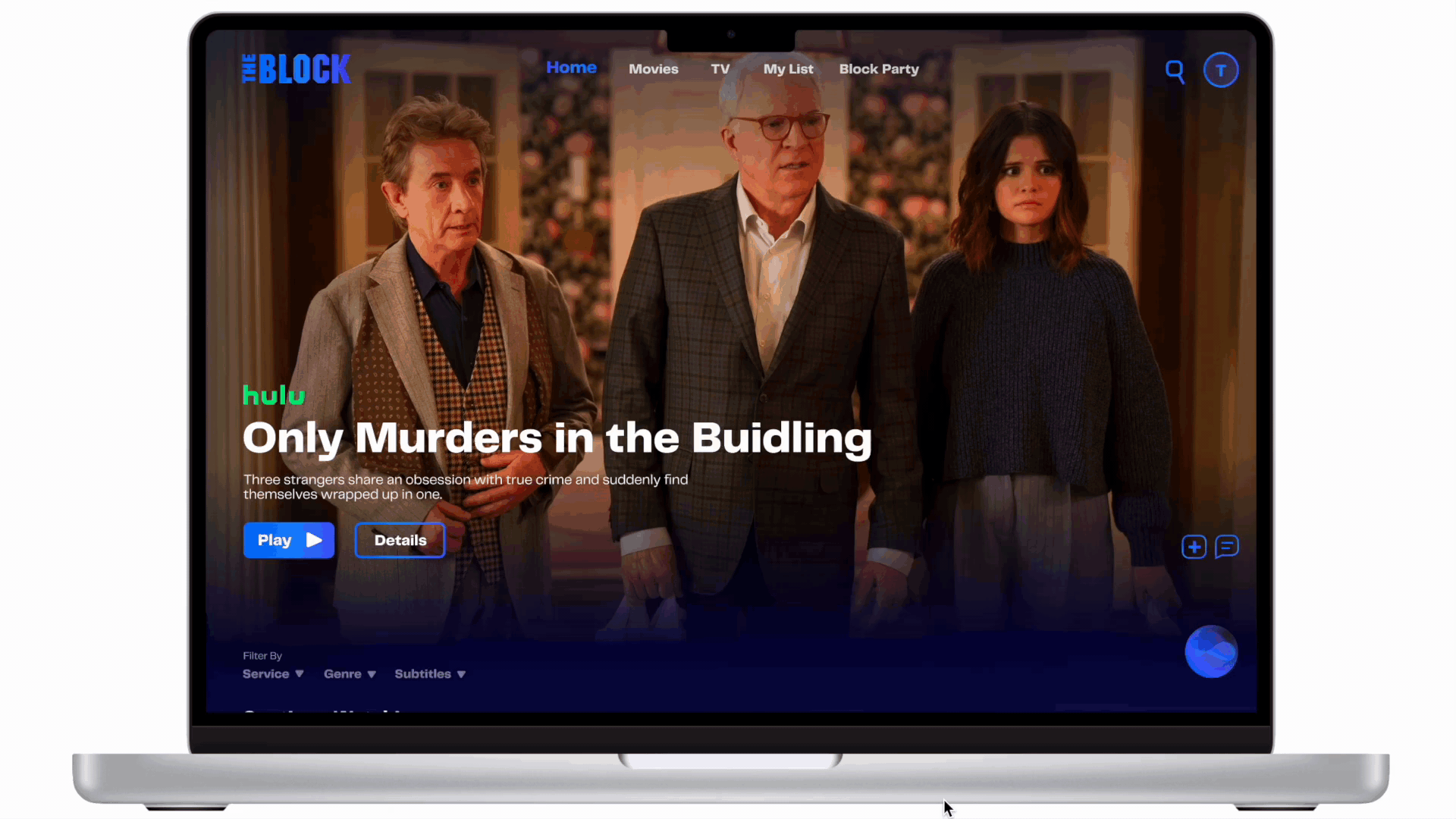 01: User Research
We first conducted both qualitative and quantitative studies to understand current perceptions of both Blockbuster and streaming. We had 12 qualitative interviews with S+G employees and sent out a survey with 137 responses.

02: Forming a Strategic Plan

After conducting research on the problem area, we created a strategy to build our new brand and platform. It was imperative to formulate a plan to create a brand and platform that is both effective for users and for the sustainability of Blockbuster as a brand.
03: Prototyping

With a short timeline after conducting research and formulating a design strategy, I had to begin quickly prototyping ideas for the platform with insights and strategies in mind.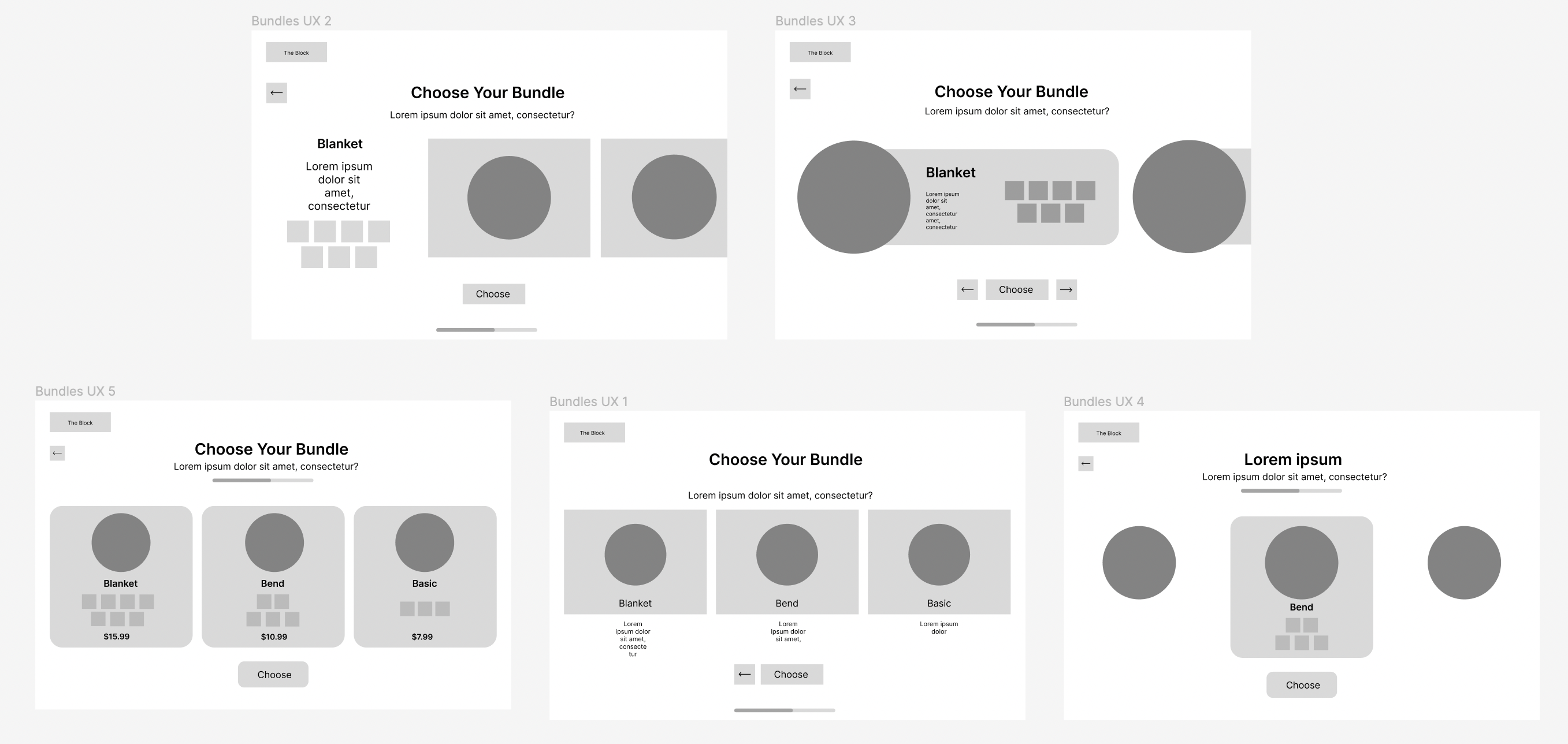 Research Insights
01: High demands for bundles.

Most people are not subscribed to bundles but are highly interested in one, this allows us to provide an aggregate streaming service that discounts multiple platforms into one bundle.


02: Skeptics want to see Blockbuster modernize.


Skeptics of Blockbuster want them to be more creative and innovative, meaning that the platform's visual design and experience should reflect these attributes by looking modern and clean.




03: Superfans love content discovery.


Superfans of Blockbuster spend more time searching for and watching content than skeptics, giving us the opportunity to create more interactive search experiences to cater to superfans.

Strategic Opportunities
01: Provide users with a seamless bundle management experience.

By providing entertainment with ease by consolidating all the streaming content in a single place, we can improve content discovery by providing a seamless experience through a single provider.


02: Prioritize experience over just delivering content.


Create human connections through entertainment and features to encourage connectivity and interaction.




03: Lean into our legacy and experience, while looking to the future.

The new brand should be more creative and innovative while keeping Blockbuster's core attributes. The experiences that we create in the product should emulate nostalgic feelings but also be more revolutionized for the streaming industry.


Project Takeaways


Stick to the strategy.
When creating a platform for a brand that currently exists, I learned that it was essential to tie every piece of experience and design back to the strategy. Working with a strategist helped me to understand that design decisions cannot exist in a vaccum when designing for brands and that it was necessary to cater everything to what the brand desires.



Lots of overlap.


Working with a team of writers, researchers, strategists, and marketers meant that there was a plethora of different skills and expertise in this project. However, with the short timeline, we had to constantly be working on many parts of building this brand and platform at the same time. From this, I learned the importance of effectively communicating progress quickly and taking agency to ask for feedback and updates from other teams in order to create an effective end product.