A redesign of Headspace to make the search for meditations more personalized for both routine settings and spur-of-the-moment scenarios.
Duration

5 weeks
Team

Solo
Tools

Figma
After Effects

Problem

Headspace is a mobile app that provides sessions of guided meditation to its registered users with the goal of mindfulness. It is a great resource for mindfulness, but it is not personalized to users, creating a feeling of inauthenticity.
Solution

I designed new features that focused on the search for meditations in the app with both a routine-making feature and conversational interface that could exist in the app to create a personalized experience that aligns with Headpsace's mission of helping people create life-changing habits and improve the health and happiness of the world.
Sunny

Sunny is a conversational assistant that helps when users are overwhelmed by the number of meditations on the app. With Sunny, users can ask for the most personalized meditation exercises.

Routine Making
Users can cater the content on their homepage to their own routine and have an easier way to access frequented meditations.



01. Initial Interviews Insights
To understand the scope of this redesign, I wanted to conduct some initial interviews.
1. Users are overwhelmed and annoyed when prompted with meditations and videos that are not used on the home page.

2. No sense of reflection or conclusion after finishing a meditation or video.

3. For new users, it is difficult to choose a meditation because there are so many options to choose from.
02: Prototyping

Actualizing these insights into quick prototypes was my next step in determining the best possible solutions. To create the best possible solutions, I outlined 3 main opportunities that I could address in the redesign.
1. Design a meditation routine feature to create customization of the homepage.
2. Reflection form after each meditation session.
3. Questionnaire to determine what users need when logging into the app.
03: User Testing

Iteratively testing my ideas was essential to create features that were both useful but also intuitive. I completed 2 rounds of testing, due to time constraints, and addressed the findings from a variety of users.
1. Make editing a routine more seamless by allowing users to do it on the main homepage.
2. Eliminate the questionnaire to choose mediation and design a voice assistant that feels more human.
3. Combine the final reflection into the conversational interface to provide a more cohesive experience.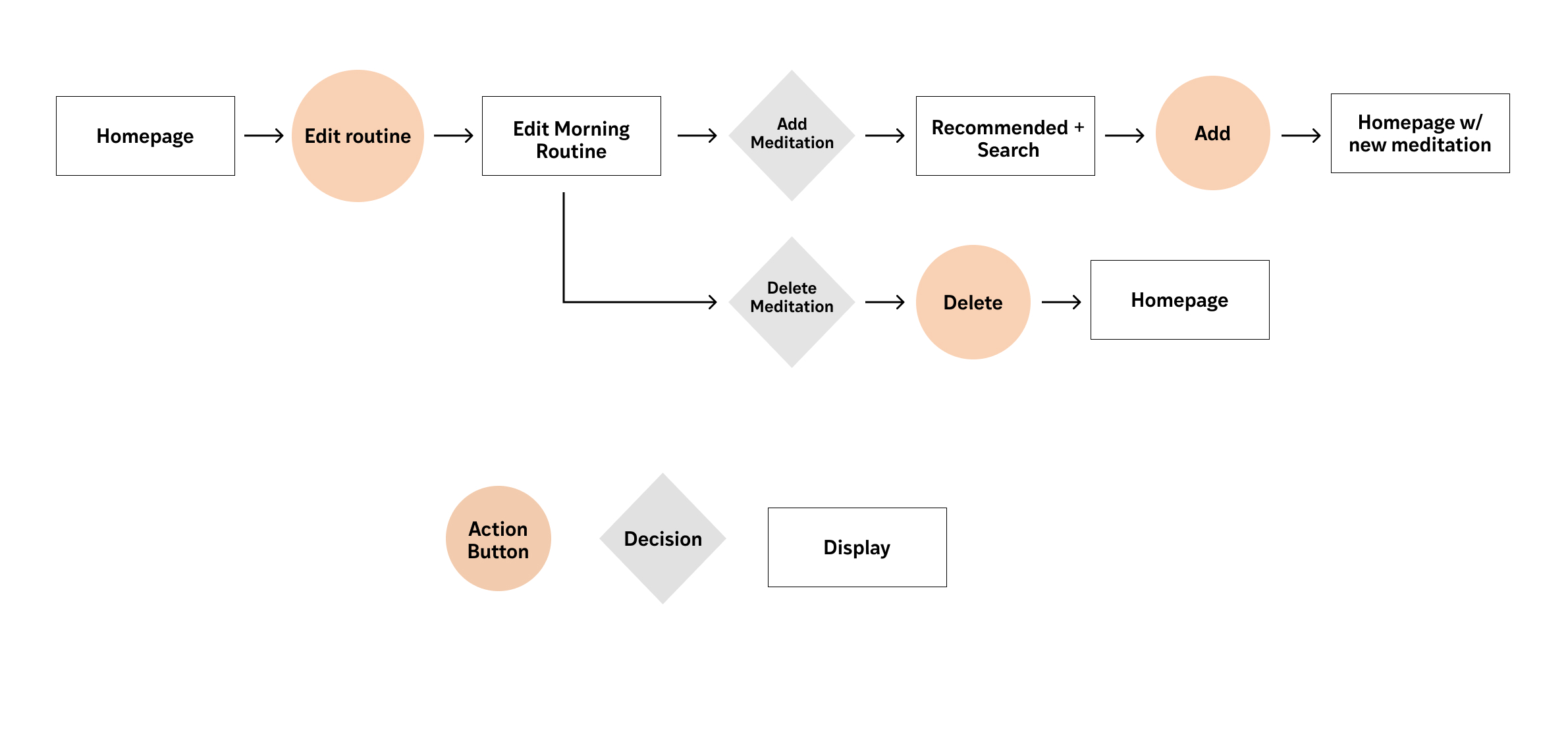 Sunny's Motion States

Sunny has 3 different states that acts as a brand space and interacts with the user, providing them a more comforting and intutive experience.
Project Takeaways


Different types of users.
In this project, I learned a lot about the different types of users and in this case, the types of people who use/don't use meditation apps. I found that those who were very familiar with apps like Headspace pointed out flows and experiences that I never would've thought about.