A pop-up experience that encourages artists and creatives to launch their own Etsy business with their own unique, handmade products.

Duration

4 weeks
Team

Spoorthi Cherivirala
Tools

Rhino
Photoshop
Figma
Illustrator
After Effects
Skills

3D Modeling User Experience

Premise

Etsy wants to create a physical space with a focus on the branded experience. This physical location will be a platform for their existing services. Using insights from secondary research and strategic insights, we designed a Pittsburgh-based pop-up emphasizing Etsy's brand position as the marketplace for creativity and selling of handmade crafts and products.


Central Etsy Maker Space

When visitors enter, they see different crafts around them in one central Etsy maker space and the supplies in the center. Here, they have a plethora of art and crafts supplies to choose from. The exterior also has a poster that introduces people to the space and if they don't have a reservation there's a quick link to help them.


Learn and Make

There are 4 different Booths in the Etsy launch experience for commonly sold Etsy categories, jewelry making, sewing/embroidery, metalworking, and drawing/painting. At these booths, they can use materials to make their crafts and get help from a professional when they need it. There are shelves that provide examples of the craft that they are making to draw inspiration and reference from.



Entering Launch

After making their crafts, visitors leave the making section of the experience and enter the launch area. Here, they are able to experience how easy it is to create their own shop on Etsy.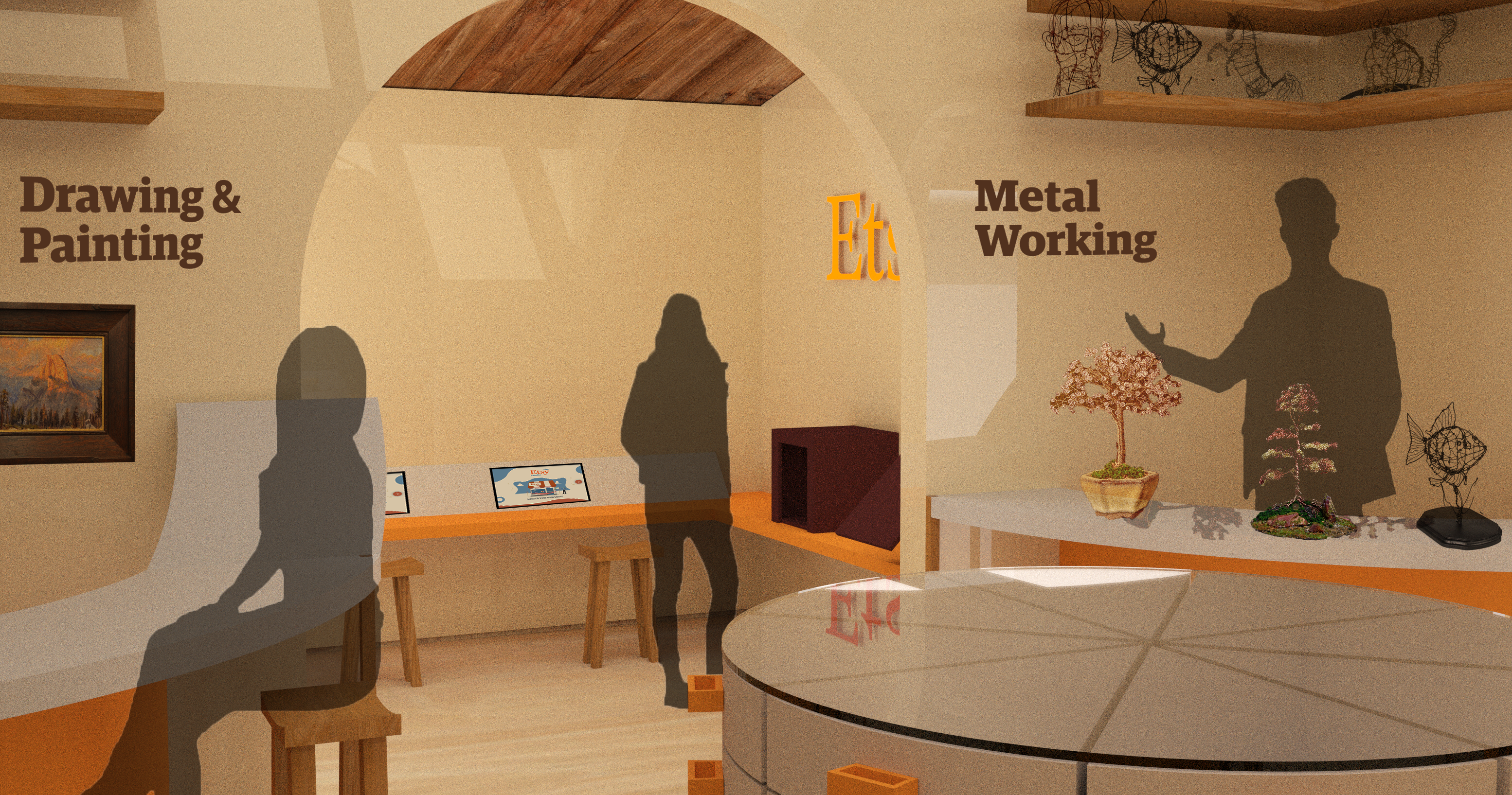 Photographing Products

The first step is taking professional photos of their creation. Visitors simply place their craft within the photo box and 15 photos will be taken from different angles. Instructions are posted in the photo station and an Etsy brand ambassador will be present to help with any issues.



Digital Launch

The next step of the process is the digital launch. Because Etsy is an online store, this interaction is screen-based, where visitors are able to visualize their store coming to life by designing logos, picking color schemes, creating stickers and cards for their brand, and publishing their shop online. And at the end of the short process, they're left with a fully-fledged online Etsy store, giving those interested in art the small push to make their dreams a reality.

Experience Takeaways

At the end of the experience, visitors can take home their branded merch including their stickers, cards, and final product, as well as their published online shop to remember the Etsy Launch experience.

01: Design Research and Key Insights
We first began by trying to understand the brand values and visions of our client, Etsy as well as their branding decisions and accumulated our research on
this document
.
02: First Idea Development

The first idea that we decided to experiment with was creating an experience in which visitors can create their own handmade craft,
03: Developing Final Experience

With only a few weeks to develop our final deliverables, we created mood boards, parti diagrams, 3D models and renderings, and videos to convey the experience we are proposing.
Project Takeaways

Pivoting is ok.
Creating a physical model was essential to visualizing how big the space is. I needed to use walls to break up the space, and having a model allowed me to understand how to create interactions that were appropriate for the space.




Interior + Exterior

I found it key to create my own data visualization graphics for this project in order to produce a cohesive experience for the visitor. Though this project, I learned the importance of identity and visual continuity in spatial experiences.